Pain-Free After 11 Hrs Hiking Thanks to kybun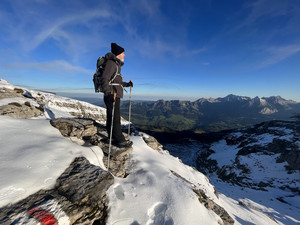 Our colleague Richard tests the kybun Matterhorn 20 Dark-Blue and reports on his experience.
With his goal of climbing the standard «seven peaks» of the Churfirsten mountain range in one day, Richard Baumgartner, Head of Distribution Overseas, decided to give the kybun Matterhorn a critical test.
Despite having to revise the route due to snow and hazardous conditions he made a successful start and was able to gain some valuable experience with the kybun hiking shoe:
Good grip at all times
Secure feeling, even in steep terrain
Pain-free even after a long period of hiking
Ideally suited to all levels of hiking
I had a great experience with the kybun Matterhorn: little break-in, yet hardly any pressure points and pain-free after more than 11 hours of hiking. The kybun Matterhorn is ideal for hikes of all levels of difficulty.

Richard Baumgartner, Head of Distribution Overseas
Elastic-Springy Over Every Hill and Dale
The kybun Matterhorn 20 Dark Blue is water-repellent and the rubber coating with seams protects you from getting wet in the boot. The deep tread of this trekking model provides the necessary grip and gets you safely through the wet and cold winter.