NEW: Standing healthy on the kybun Pyramid mat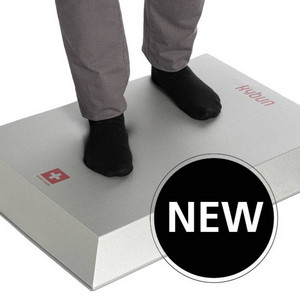 The new mat from kybun is easy to clean and reduces the risk of falling. Buy now and stand more!
Ideal in the office or training around the home
The kybun Pyramid mat is water-repellent and easy to clean due to its special coating. Whether in the office or during healthy exercise - with its compact size, the kybun mat Pyramid is versatile and reduces the risk of falls in everyday life thanks to the sloping edges.
The new mat from kybun offers the following advantages:
Can be used in a variety of ways thanks to its compact size
Reduces the risk of falling in everyday life thanks to the sloping edges
Hygienic thanks to its special coating
High quality design
Something else that might interest you: